Rich Gang comprising of members Ivan Semwanga, his cousin King Lawrence and one Eddy Kyeyune is fame for its extravagant lifestyle.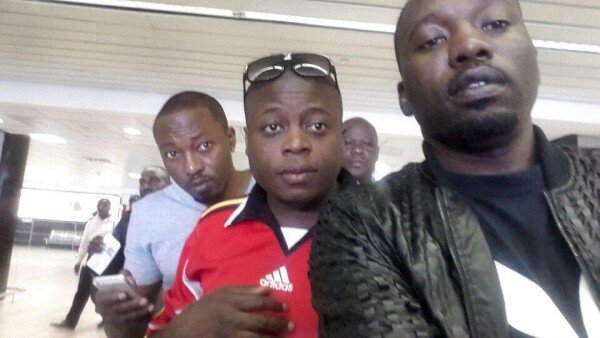 They splash money where ever they hang out from but away from that, do you know how they rose to fame?
Well, celebrated city MC and Tv presenter popularly known as MC Kats claims to have made the trio.
In a revelation he made Wednesday, a furious Kats says that he was approached by Ivan through his wife then, Zari.
Ivan was apparently hungry for fame and was seeking Kats' services, which he subsequently delivered.
"He asked me how he could be famous. Me being a graduate in journalism I started the art and made him meet all media people who now still think I earn from him soo much."
"They throw money as I watch but I am not paid apart from 50k and the usual will see you tomorrow crap. All you have to know if it wasn't for Zari non of these Rich Gang would be known…but I did the behind the curtains after Zari.."
He says they promised him too much that if their promises were to be fulfilled, he would be owning a Lamborghini by now.
He says the biggest sum of money he has ever got from Ivan was Shs1 million.
"Though Ivan once Gave me 1m. I picked it from kikubo next day. 3years ago but people think have gained alot from them… noo I am not different from you. Who fits for money whn they throw it.."
"For long they tell you come to Serena while you wait they can't even buy u food and you are there for over 4hours yet you work. You do the plan crazy……they are not famous for money we made you believe they have. If they do please show me one investment in ug."
Kats has been in the entertainment industry for over a decade but had never issued such a statement before, a reason that that many of his fans are wondering what could have caused the rage.
The anger that triggered Kats to come out is because the Rich Gang Members failed to fulfil their recent promise which they made at the Ripped Jeans party.
They announced during the party that they were to give Shs20 million to Kats.
RELATED CONTENT
Meddie Sentongo Asks Semwanga, Mbuga, To Back Off His Space

Jailed King Lawrence Appears In Court Today

Semwanga To Hire Private Jet For Cranes Supporters To Guinea

Zari's Husband Expecting A Baby Girl

MC Kats, Fille Seperate Over Unfulfilled Wedding
"Please if they ever (give me the promised Shs20 million, I promise I will gve 10m to …"